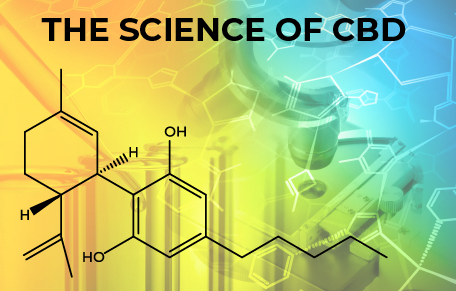 Cannabidiol (CBD) is a naturally occurring compound commonly found in the resinous flowers of both agricultural hemp and cannabis (Cannabis Sativa). It is a safe, non-addictive compound which, unlike the closely related compound tetrahydrocannabinol (THC), is not psychoactive and therefore does not produce a "high," regardless of ingestion method or quantity. Both CBD and THC can bind and interact with cannabinoid receptors found throughout the human body, but differ quite dramatically in their respective effects. CBD is well-established as a therapeutic remedy for hundreds of ailments, and is non-intoxicating, making it a highly appealing alternative to expensive, potent, and often dangerously addictive prescription pills. Owing to its widespread popularity in recent years, CBD has been put through a battery of double-blind, peer-reviewed clinical trials in an effort to determine whether or not CBD supplementation was effective. Below is a list of just a small handful of scientific studies indicating the efficacy of CBD with respect to a variety of conditions/ailments:
Corroon, J., & Phillips, J. A. (2018). A Cross-Sectional Study of Cannabidiol Users. Cannabis and Cannabinoid Research, 3(1), 152-161.
Maroon, J., & Bost, J. (2010). Review of the neurological benefits of phytocannabinoids. Surgical Neurology International, 9-91.
Bergamaschi, M., et al. (2011). Safety and Side Effects of Cannabidiol, a Cannabis sativa Constituent. Current Drug Safety, 6(4), 237-249.
From its well-known anti-convulsive properties to mood elevation and relaxation, CBD has been attributed to an extraordinary array of potential health benefits. Here are just a few conditions CBD has been demonstrated to be effective in addressing some of the associated symptoms:
Autoimmune diseases (inflammation, rheumatoid arthritis)
Neurological conditions (Alzheimer's, dementia, Parkinson's, epilepsy)
Metabolic syndrome (diabetes, obesity)
Neuropsychiatric illness (autism, ADHD, PTSD)
Gut disorders (colitis, Crohn's)
Cardiovascular dysfunction (atherosclerosis, arrhythmia)
Skin conditions (acne, dermatitis, psoriasis)
CBD has also been shown to be a powerful neuroprotectant, and its anti-tumor properties are currently being investigated in humans.
In addition to using CBD as remedy for a specific disease or condition, it is also widely used as a preventative or proactive health supplement. In today's world of consuming endless amounts of synthetic, and often very addictive, prescription pills, millions of people are turning to a more holistic/natural alternative healing regimen—often including CBD and/or other phytocannabinoids, phytonutrients, and essential oils.